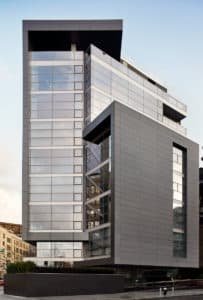 With over two decades in the construction and real estate development industries, Rocco Basile leveraged his experience as manager of Basile Builders Group, and is now the director of Avo Construction. He offers insight on the benefits of landscaping for businesses.
Designing the exterior of a building is as important as creating a beautiful interior space. In both areas, the landscaper, architect or interior designer focuses on creating a comfortable environment for the dweller. Landscape designing is ideal for areas outside a home. You can include a rock garden, plant some Cheryl Laurel or pave your entryway with cultured slabs. It's up to you to come up with a landscape design that will add aesthetic value.
Apart from landscaping your home, it's also a good idea to landscape the area outside your business premises. Be sure to combine culture and nature. This way, you'll achieve a well-designed exterior space that attracts the eye of everyone visiting your office. Here are a few benefits of proper landscaping for businesses.
Market Value
The value of property appreciates with time. The features and functionality of a building affect the market value of commercial spaces. Attractive exteriors are likely to increase the value of your workspace. It's important, therefore, to ensure you hire a reputable professional to help you with landscaping. With proper landscaping, you'll stay ahead of your competition as the exterior space will attract more customers. This can increase the revenue in the long run.
Environmental Friendliness
Ensuring ecological health and balance is everyone's responsibility. Considering the impact of our actions on the environment is vital. Sometimes, human activities may harm the environment. Landscaping allows us to create a safe environment. The majority of landscapers incorporate flora in their designs. This is usually a way of bringing nature closer to the dweller. A well-manicured landscape would discourage your clients and employees from littering the compound. It would evoke a sense of responsibility in everyone entering or leaving your landscape.
Physical Attraction
I can't emphasize enough the importance of aesthetics in business. Every aspect of your business operation should attract the attention of your clients. Naturally, human beings appreciate good-looking stuff. Landscaping enables you to add aesthetic value to your office. Most people judge the capability of a company based on small details, including the neatness of the outdoor spaces. When you have an attractive exterior space, you client will assume that everything about your business is great.
Security
Various components make up healthy landscapes. These features may be functional, aesthetic or both. For instance, hedges may act as decorative pieces and security features, as they'll keep away intruders. When landscaping your business, professional landscapers will incorporate lights, plants and other materials that will protect your business. Consequently, your employees will feel safe working at your company.
Productivity
The performance of workers depends on many things, which can be physical or psychological. People tend to work better in natural environments, as they feel comfortable. Landscaping offers your business a peaceful environment that motivates your employees to produce better results.
A Better Neighborhood
When you make great outdoors for your company, you might motivate your neighbors to do the same. This will improve the appearance of your surrounding area. More people will be attracted to the area, and this may attract more clients to your business.